How to conveniently buy tyres? Preferably on the Internet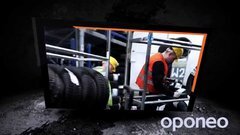 Winter is approaching. Temperatures get lower. We start to think about Christmas, we choose presents, we wait for snow. However, we still drive on summer tyres, even though it is high time to replace them, but who has time and mind to look for appropriate tyres and to wait in queues at a tyre fitter workshop?
Internet is open round the clock
A traditional way of purchasing tyres requires the driver to spend much time doing it. We can drive to a market, where the choice of tyres is limited and there is a high risk that we will not find appropriate ones. On the other hand, buying them in a workshop, while working from 8 AM to 4 PM and then having to do the shopping and pick up children from the school, makes it is basically impossible, taking into consideration queues at a tyre fitter workshop. Another frequent reason is the lack of appropriate products there. However, there is a simple solution. At every hour, day or night, we can sit at the computer and buy tyres on the Internet.
Shopping online has many advantages. First of all, we are not limited by opening hours of shops or workshops. We can make a purchase by sitting at the desk, while drinking tea or coffee at the same time. An online shop has a wider choice of products than a stationary one, and, in addition, you can compare the prices of given models.
A quick and simple choice
To make an order you only have to enter Oponeo.pl site and go to the search engine. –You only have to enter the width, height and diameter of the tyre, and if you are not sure which size is the best, you can enter the brand of the vehicle, its model, the bodywork type, the generation and the model of the engine and the search engine will show the appropriate tyres – says Ernest Pujszo - Project Manager of Oponeo.co.uk.
Rely on the feedback of others
The feedback of other customers is also important and it is not hard to be found on the Internet. In total, about 50% of online stores' customers base their decision mainly on the recommendations of their friends or other users. We do not have to blindly follow the recommendations of sellers from stationary shops.
Quick payment
An online purchase eliminates the issue of queueing or having a large amount of money on you. Instead, after confirming the purchase, you can pay via your computer by making a transfer or using a platform for quick payments. Thanks to that, you will receive the confirmation of purchase made only after a while and the tyres can be delivered to you even within 24 hours after placing the order.
Convenient receipt
Ordered tyres may be delivered by a courier at a convenient moment, or they may be delivered to a partner workshop. You can order a delivery of tyres to a tyre fitter workshop and, at the same time, arrange a specific date and time of changing them. Thanks to that, you do not have to carry tyres which weight almost 66,14 lb and wait in queues, which you cannot avoid in the high season.
It is very important to add that even though law recognises tyres as new up to 24 months from their production, e.g. Oponeo does not sell tyres which are older than 12 months. In addition, each customer gets free delivery and 24-hour technical support of experts at the call centre.